Guest Post: Manav Fernandez
"Ask not what your country can do for you, ask what you can do for your country?"
Distinctively articulated almost 60 years ago by John F Kennedy at his inaugural address, this simple call to action has become famous for inspiring loyalty.
But in a region where majority of the population are expats where any could be made to leave in less than 30 days, how do you create a love for a country, employer, or brand – let alone a sense of loyalty?
Transience
The Middle East is an extremely transient society, and therefore the people who live here tend to be more transactional in nature. Over the years one learns that friendships have a shelf life and people will leave. Employees are still arriving on two-year contracts, which causes many to question how much emotional investment they can and/or will make.
Age
Let's talk for a moment about demographics – the average age across the Gulf Cooperation Council (GCC) is bang in the middle of the 'millennial' bracket at 27 years of age (Saudi Arabia is higher at 30) – an age commonly reputed for having little or no brand loyalty, which is not what any of us wants to hear!
However, the Middle Eastern Millennial is an outlier here – with a study conducted by Google showing this segment to be significantly more loyal than their counterparts from around the world. Conversely, by the same token, this segment and the market in general has high service expectations and are quite unforgiving to poor customer experiences. One of the key reasons here, and a factor I'll be discussing subsequently, is income related entitlement.
Income
From an income perspective, immigrants and citizens alike enjoy a relatively higher standard of living than their counterparts 'back home' or in other first-world countries. Income is tax free, there is a high level of safety and security, availability of products, services and brands is ubiquitous, and banks are happy to lend money and encourage purchases with little or low collateral or guarantees.
As a result, individuals tend to 'live large' and expect their rewards to provide them with unique and exciting customer experiences. In turn, these go-getters are looking to earn points and discount generated savings, to acquiring lucrative money-can't-buy experiences.
Nationality vs Income
As an experienced marketer I have watched many occasions in disbelief where the racial tendency to create segments by nationality has been exercised. In my experience there is nothing more dangerous to any kind of marketing exercise, except perhaps when dealing with very specific socio-economic groups, than to pigeonhole race.
In the model illustrated below – imagine for one moment the three concentric circles symbolise household income with the outermost ring being the lowest and the innermost representing the highest or wealthiest members of society. Furthermore, each wedge (marked 'a' to 'h') represents a different nationality. We propose and strongly believe that those in the inside circle have more in common with each other with regards to aspirations, desires, lifestyle, experiences, and so forth, than those in the outermost circle. While those in the same wedge may be connected through language, food, pop-culture and perhaps even politics their lifestyles may not.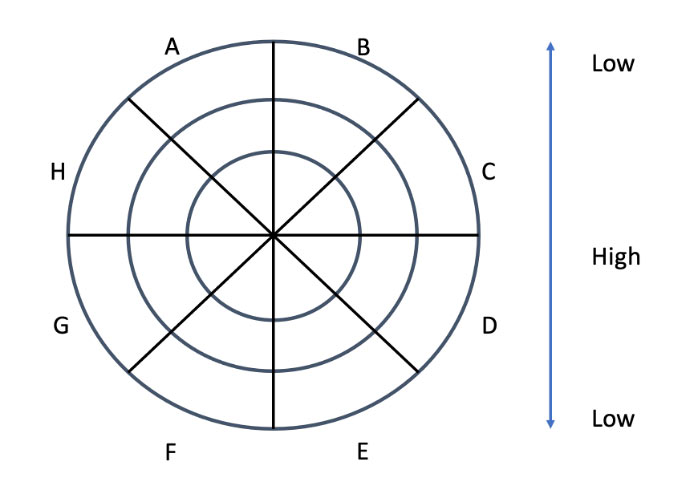 Cutting past this is the first challenge faced by loyalty marketers in the region.
A loyalty program first and foremost needs to understand the customer they are dealing with, and what is of value to them. Leading from the previous point – creating relevance is the most important. A colleague of mine, loved to say – "I could buy the most expensive Armani suit, but if it doesn't fit me, it's worthless and will forever, hang in the closet". This is where a 'Machine Learning' based platform that is able to track and report the kinds of rewards being utilised will succeed. Starting from an experience or research-based baseline, the program evolves continuously driving engagement by ensuring it is relevant to each segment, narrowing them down to a utopian, 'segment of one'.
The model illustrated below is based on mapping 'relative appeal' based on socio-economic demographics. Behavioural Science theorises that (generally), members who are lower on the socio-economic scale are more likely to be influenced by cashback, discounts and points as a reward, compared to recognition or experiences.
Meanwhile, members higher on the scale are more likely to be impressed by recognition of their custom – experiences such as 'early-access' to product or sales, or an in-person 'meet and greet' with a dignitary or celebrity, in other words, 'money-cant-buy' experiences.
Furthermore, data shows that females tend to prefer financial rewards that are more practical, as compared to males who are drawn to recognition based rewards that appeal to their ego. This is, however, a broad trend, with exceptions to every rule.
It is safe to say that programs in this region should offer a combination of savings, rewards and recognition.

"Constant Gratification" vs "Instant gratification"
Customers' low span of attention coupled with aggressive competition means members are quick to disengage if the opportunity to win/earn a reward is perceived to be far or distant.
The requirement for 'instant gratification' has evolved into a hunger for 'constant gratification' – leading to a need to reward members with small prizes for small victories, as he/she works their way towards a series of larger rewards.
A successful program will be underpinned by content relevant to the member while staying true to the key pillars of the brand or program, giving members additional reasons to engage with the app.
The Impact of Covid 19 on Loyalty
A lot has changed in the post-Covid era with low-customer confidence, customers are now increasingly focused on "value" – unfortunately this term is subjective and what may be considered of value to one may have no value to another.
These are new and interesting times – and customers want to know they are cared for by the brands they engage with. Meanwhile, as brands start to show losses, they cut back on service staff, and on both, soft and hard program benefits – a surefire way to lose not only customers but also their program members.
So, what does all this mean to you as a brand?
The Middle East is a Millennial Minefield with 48% of the GCC *(Gulf Cooperation Council States) market being in the 25-40 age range. These customers are loyal but unforgiving – build a platform to get to know them and remember they want to be seen as individuals. Your customer tends to have travelled and is well exposed to high standards of service delivery and demands the same. programs around the world
Make sure you're building an emotional connection that is underpinned by a meaningful rationale i.e. Recognise and reward with generosity and relevance – a couple of dollars in cashback or points will not impress them. Last but not least – engage with them. Not just when they transact with you but when they need something… we like to call this 'downtime engagement' which is often more important than the few moments when the customer is transacting and earning or redeeming points. And remember they have a short span of attention – make it impactful and meaningful.