Spark Meeting Rooms Made Easy
Generating product awareness and excitement through the power of video.
Campaign Name
Meeting Rooms Made Easy
The Brief
Half the New Zealand workforce are now working hybrid, but so often the in-office experience isn't as good as the desktop experience they have at home. They want more equitable quality and easy, seamless collaboration/meeting experiences for walk-in-working wherever, whenever.
Spark wanted a way to demonstrate how they can deliver quality meeting room experiences that drive productivity, supported by 24/7 expertise.
Our Solution
With 82% of people watching online videos every week, we recommended producing a two-minute explainer video on how the Spark Meeting Rooms solution can deliver quality meeting room experiences that meet – and exceed – both business and user expectations.
A Kiwi Tour Guide Approach
We recommended using actor Luke Taplin to lead a tour-guide explainer video. Luke matched Spark's target audience profile and was brand appropriate.
With Luke's relaxed, warm, humorous personality we could convey the benefits of Spark's easy one-stop turn-key service, delivering a seamless meeting room solution with proactive ongoing support.
By using a Kiwi, this story felt home-grown, friendly and an accessible New Zealand solution.
All creative assets featured Luke, who became the face of the Spark Meeting Rooms campaign. This creative approach gave Spark the opportunity to move away from generic product branding and really give their solution a unique and personal touch.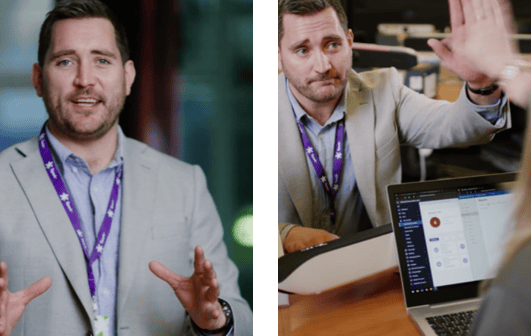 How was this video promoted
The video was used as a consumer-facing communication and pre-sales tool. Supported by a targeted digital advertising campaign, Spark were able to promote their solution to new and existing clients, driving them to a dedicated Meeting Rooms Solution Page.