Seagrass Boutique Hospitality Group serves up seamless multi-brand loyalty and rewards
Client
Seagrass Boutique Hospitality Group
Campaign Name
Dining Rewards Club (DRC)
The Challenge
Providing a 'segment of one' service experience, with a deep, personal understanding of your customer's behaviours, preferences and intent, is a holy grail of customer service, but one that can be a challenge.
For renowned international restaurant company, Seagrass Boutique Hospitality Group, the challenge was even greater. It has over 40 venues across a range of premium hospitality brands, including The Meat & Wine Co, 6HEAD, Ribs & Burgers, Hunter & Barrel and Italian Street Kitchen. And that's just in Australia, with Seagrass also operating restaurants in the United Kingdom, United Arab Emirates, and South Africa.
The company had maintained individual customer loyalty programs for each brand, but was keen to provide its customers with a unified experience via a consolidated loyalty program, which would allow customers to reap benefits across all the brands and all the locations.
"We wanted to overhaul our customer loyalty program to deliver more personalisation and simplicity across our different brands," says Maria Fernandez, Group Digital Marketing Manager for Seagrass Boutique Hospitality Group.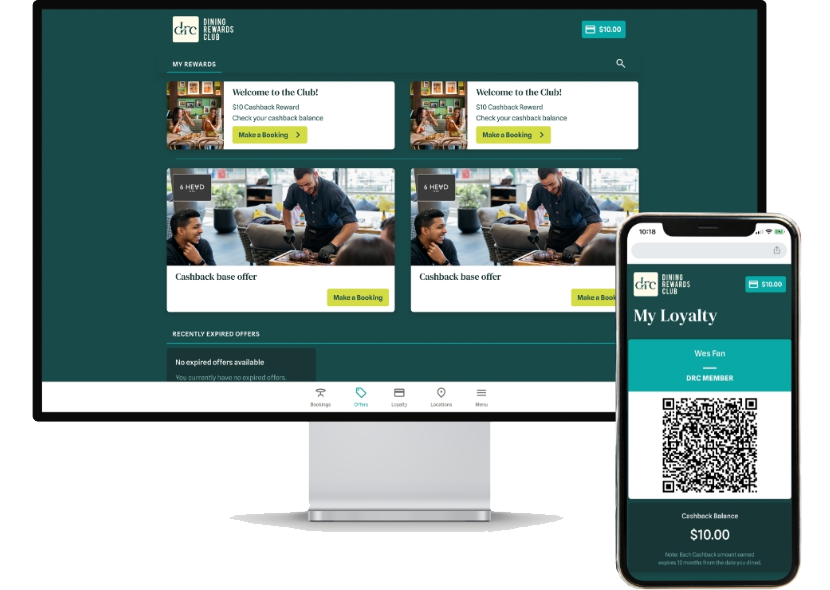 The Solution
Enter The Dining Rewards Club.
The Meat & Wine Co's previous loyalty program had been run by Gratifii for more than 12 years, and Seagrass' decision to consolidate all its brands' programs into one came not long after Gratifii launched its Mosaic software-as-a-service customer enterprise engagement platform, which enables powerful customisation, flexibility and configurability.
The agile, API-driven loyalty engine enables Seagrass to provide always-on cashback rewards running across all its brands – and redeemable between brands – as well as per-brand campaigns and individualised rewards based on a customer's buying profile.
It also allows Seagrass to track customer preferences and provide that invaluable 'segment of one' service experience across all its venues.
Loyalty platform APIs can integrate directly with the PoS for a seamless experience.
Customers access the program via a progressive web app which can be viewed across any device or web browser.
While customers are winning through not having multiple programs to manage and being able to harness rewards across all brands, Seagrass is now able to manage the program holistically and gain a greater understanding of customer behaviour across all brands and the ability to segmentation.
Seagrass is initially using a recency, frequency and monetary value segmentation model to understand more about their customers and how to better target them.
Reporting enables the company to see changes in customer habits and the impact of offers.
The Australian rollout will be followed by global expansion across Seagrass' brands and venues across the United Kingdom, United Arab Emirates and South Africa.