Coles Employee Rewards
Sweetening the employment deal with real savings for employees.
Campaign
mybenefits on mycoles
The Challenge
Skills shortages. We've all heard about them and many of us have first-hand experience of how hard it can be to attract and retain staff.
For leading supermarket retailer Coles, delivering great value on the weekly grocery shop is a well-known tenet. But the company is also keen to ensure its team of more than 129,000 team members across Australia receive generous discounts and benefits and sees a competitive employee benefit scheme as a way to position itself as an employer of choice and not only to retain team members but to attract new team members.
Coles already offers discounts for its internal brands to its team members, but is keen to provide team members access to discounts for products and offerings it doesn't provide itself and that will add enjoyment to its team members' lives as well as further ease the burden of daily expenses.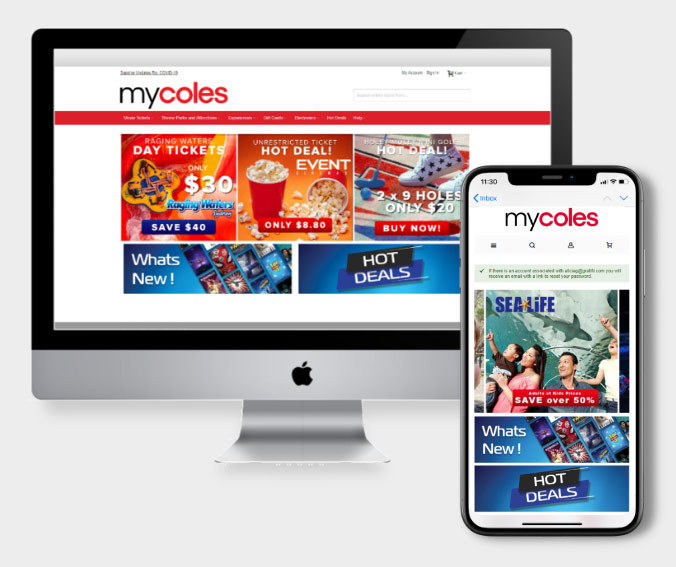 The Solution
Gratifii's rewards arm, Neat Ideas, works with Coles to build and maintain a mycoles branded portal for the supermarket chain. Mobile optimisation guarantees a better experience for team members accessing the site from mobile devices and ensure they can access the portal – and all its benefits – anywhere, anytime.
The portal provides access to more than 2,000 discounted gift cards, vouchers and a wide range of experiences from over 150 suppliers at best-in-market pricing.
As with all Neat Ideas solutions, the offers available on the mycoles portal are customised to ensure only appropriate offerings are available to team members via the program. In this case, vouchers for competing companies are not available.
Neat Ideas also creates bespoke offerings and 'hot deals', capitalising on the buying power that Neat Idea's has gained from more than 30 years as a trusted partner to rewards partners around Australia.
Regularly changing hotdeals and bespoke offerings are promoted via eDMs and the portal to Coles' team members.